Back to Casso List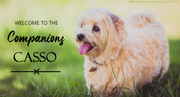 Hi everybody and welcome to the Companions Casso! I'm Twilight, your president for April. Thanks for voting me in again <3>Maltese!
We need to get this breed to 1598 registrations before the end of the month. So please register all of your Maltese and don't retire any this month (lock them instead).
Current registrations (updated daily): 1548/1598 (50 to go)
There will be $3 million + of prizes for registering your Maltese dogs this month! Please be sure to check out the breed boost topic, which I will be making soon.
Game Time
Welcome Guest
Sponsored Links