Agility (A)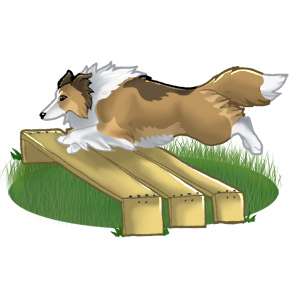 Sport Stat Weights
x2

Agility (agi)
x1 Charisma (cha)
x2

Intelligence (int)
x2

Speed (spd)
x1 Stamina (stm)
x1 Strength (str)
This sport is available to all breeds.
Description:
Agility is a dog sport in which the handler directs the dog over a series of obstacles using only voice and body signals. It's a race against the clock and the fastest dog (without any penalties) wins. The handler cannot use toys or food as incentives during a competition, only voice and body signals. Agility requires exceptional training of the dog.
The course itself is laid out by an agility judge who chooses the design. An agility course includes certain obstacles, such as the "Teeter Totter," "A-Frame," and the "Dog Walk," with contact points which the dog has to touch or face penalties.
Many agility courses also have several tunnel obstacles. A rigid tunnel is a tunnel which is between 3 and 6 meters and is either curved or straight. A collapsed tunnel, often called the "Shoot," is a barrel-like cylinder with a tube of fabric attached at the end. The fabric lies closed until the dog runs into the open, barrel end and pushes it open as it runs through.
The agility course will always include several jumps. The most common types of jumps are spread jumps, panel jumps, tire jumps, and hurdle jumps. A tire jump is a jump in which a tire shape is suspended mid-air in a frame which the dog must jump through. Weave poles are also included in many agility courses. Weave poles are similar to a slalom. They have upright poles, each about 1 meter high and about 50 cm apart. The dog must weave in and out of the poles, always starting with the first pole on its left without missing any poles. There can be between 5 and 12 poles on a set of weave poles.
The dog must negotiate through the course in the correct order without incurring time penalties, knocking a jump over, missing contact points, or missing jumps to finish without any penalties.
Written By: Ancien (#66610)
Edited By: Kahlem (#1)